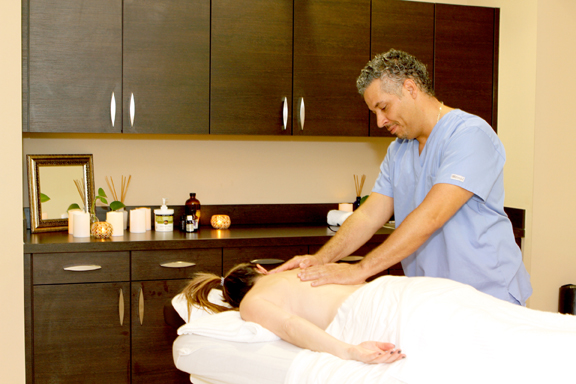 Jayson G Serrano Cora Lic.#MA56598
Lic. Massage Therapist
Jayson Serrano is more than your typical massage therapist; he's a professional, natural healer and a listener, Through his Company, My Medical & Sport Massage, Jayson truly cares about helping each of his clients feel better through massage therapy.
Beyond relaxation and sore muscle relief, My Medical & Sport Massage focuses on your problem areas for long-term benefits and can even help to resolve many medical ailments. They offer a variety of massages and customize them for each client. Some of the massage favorites are: Swedish, Aromatherapy, Medical, Sport, Deep Tissue, Neuromuscular Techniques, Trigger Points, Swe-Thai stretching, Craniosacral Reflexology, Hot Stone, Chair Massage, Lomi lomi and others. The Therapist will focus on the areas of the body related to the condition.
Massage addresses a variety of health conditions, the most prevalent is stress related tension, which experts believe accounts for 80 percent of diseases. Studies have proven that massage is beneficial in treating cancer-related fatigue, headaches, high blood pressure, neck and low back pain, TMJ, immunity suppression, spinal cord injury, autism, post-operative surgery, age-related disorders, and depression, among others.
Jayson Serrano is trained in over 30 different modalities and Certified in Medical massage and Swe-Thai massage.
The massage therapists are continually advancing on the knowledge and techniques by their continuing education, which increases the accuracy of the treatments and decreases the total number of visits. With a convenience location on Gateway Blvd, Boynton Beach Fl
For over 10 years, Jayson has practiced and trained in the art of massage therapy. His passion for being in the holistic field began at a young age while watching his grandmother and mother cooking organic food and only using natural products, "I still remember the chicken soups and sancocho" he mentioned. His grandmother also had a little farm with animals and a small garden full of medicinal, home remedy plants and herbs, this is where Jayson was first introduced to the benefits of natural healing, holistic awareness and Aromatherapy.
Growing up in Puerto Rico music was also a big part of Jayson's life with his father being a musician, and by later owning a music and book store with a small cafe, Jayson was selling not only music but also incorporated natural products such as natural lotions, essential oils, soaps and other Organic Products that are used for relaxation, healing and well-being. When Jayson became educated in the field of Massage Therapy he incorporated his love for music and his knowledge of the healing benefits of Aromatherapy into his massage therapy practice.
Unlike traditional massage therapists, Jayson goes above and beyond and listens to each of his client's needs and makes sure he consults with their medical provider if needed. What makes My Medical & Sport Massage unique is their knowledge, preparation and professionalism.
"We care for each of our clients; we have people's lives in our hands. If we are working with someone who has an illness, before we start the massage therapy we will make sure that the therapy isn't contraindicated, we ask important questions in our consultation for medical facts like, allergies, recent surgery, injury or prior accidents. Clients will benefit from our continuous education; we want to help people," exclaimed Jayson.
Massage therapist finds an inner reward in being able to help people through massage.
"We care for their wellbeing. It's fulfilling when you see that you are creating positive results in someone's life," said Jayson.
Jayson's clients appreciate him and My Medical & Sport Massage for making them feel better and live a healthier life.
"I had a very sore neck and clavicle muscles due to a weight lifting strain that was aggravated by a weekend of rigorous tuna fishing in the Keys. I explained my issue to Jayson, he listened intently and suggested a medical neck and back massage. Jayson is a trained and certified expert. The service was amazing. This was by far the best massage I ever had. He identified immediately what my issues were and methodically went to work on a specialized massage treatment. I was blown away by Jayson, and by his professionalism. Try him, and you won't be disappointed," stated one happy client.
"I experienced a horrible pulled muscle and was in a lot of pain. Jayson pushed me with encouragement and patience to heal better. He not only practices with skill but with expertise and his whole heart and soul. I truly felt cared about as if I was the only patient he had to worry about. I believe he is the reason that I am up and bouncing around. Jayson practices with a sincere, heartfelt concern for his patients as well as a great level of skill," added another client.
Experience the benefits of massage today from My Medical & Sport Massage and live a happier, healthier life.
We look forward to seeing you.
My Medical & Sport Massage
787-557-8744
mymedicalmassage@live.com
www.mymedicalmassage.com
Jayson had worked over 6 years in The Best Hotel and Resort Voted number 1 Delray Beach South Florida in 2013
Conde Nas travel Magazine
*Jayson is a Member of ABMP ASSOCIATION since 2009
Certified in:
*MEDICAL MASSAGE
*SPORTS MASSAGE
*SWE-THAI MASSAGE
Jayson has been trained in over 30 different Massage Modalities including:
*Lomi Lomi (a Hawaiian Specialty Massage),
* Deep Tissue
*Sports Massage
*Neuromuscular Techniques
*Swe-Thai Massage
*Therapeutic Massage
*Reflexology
*Aromatherapy
*Hot Stone Massage and many more.
Jayson Specializes in Natural Pain Relief